---
Quick links




Bundled options
Watch Kit plus Soldering Tool Kit

+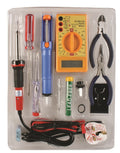 Description
The SparkFun BigTime watch kit is a geekishly stylish digital watch with a NATO style watch-band and a slick acrylic enclosure. If it seems familiar, that's because it's essentially our open-source branch from the SpikenzieLabs' Solder:Time kit. The heart of the kit is the much venerated ATMega328 using a 32kHz clock-source to keep time. To check the time, just press the button on the side of the watch and it pops up on a 4-digit 7-segment LED display. Thanks to some low-level hackery, the ATMega is running at super low power and should get an estimated 2 years of run time on a single CR2032 coin cell!
The BigTime is a through-hole kit with a low parts-count, so it makes a great project for beginning solderers. After you've finished soldering together the PCB, simply stack the acrylic pieces around it and screw them together with the included screws. Once that's done, pop in the coin-cell battery and go show off your nerd bling!
Did we mention that the watch kit is super hackable? An FTDI header is broken out to the side of the board and the watch-firmware is running on top of a bootloader! This means that all you need to do to add your own code is to open up Arduino or Wiring and select "Arduino Pro or Pro Mini 3.3V/8MHz w/ ATmega328" as your board.
This version of the watch uses brass inserts for a more secure enclosure. It also uses a new NATO style strap.
Kit Includes:
1 x Pre-programmed ATMega328 DIP IC.
1 x 4-Digit 7-Segment Display.
1 x 32kHz Crystal.
1 x 10kOhm Resistor.
2 x 0.1uF Capacitors.
1 x Right Angle Tactile Button.
1 x 20mm Coin Cell Battery Holder.
1 x 20mm Coin Cell Battery.
4 x 4-40 Screws.
4 x 4-40 Threaded Brass Inserts.
1 x NATO style Watch Band.
Acrylic Enclosure Parts.
Assembly Guide.
Features:
Very hackable ATMega328-based kit with Arduino bootloader.
All through-hole components.
Estimated 2-year battery life.
Laser-cut acrylic enclosure.
Large, easy-to-read display.
Adjustable NATO style watch-band.
Documents:
Same Day Dispatch
Orders placed online before 3:00pm Monday - Friday (excluding public holidays and our Christmas shutdown period) are always dispatched the same day provided the goods are in stock. If the goods are not in stock we will endeavour to contact you as soon as possible to discuss a dispatch date.
UK Deliveries
If you live on the UK mainland and don't have any large materials or lithium batteries in your order it will cost £3.95 (£4.74 including VAT) if you spend less than £40 (£48 including VAT).
If you spend between £40 and £200 (£48 - £240.00 including VAT, excluding large materials or lithium batteries) delivery is free to most locations, £12 (£14.40 including VAT, excluding large materials or lithium batteries) to Northern Ireland and £15 (£18.00 including VAT, excluding large materials or lithium batteries) to UK remote locations. For a list of postcodes that will be charged the remote location rate: remote area list.
If you spend over £200 (£240.00 including VAT, excluding large materials or lithium batteries) delivery is free within the UK.
Rest of the world
These orders are sent via UPS, and the cost is dependant on the service you choose at checkout. Alternatively you can choose the free collection option and have your own courier collect it from us. International orders can only be shipped to the registered card address. Please note: International orders may be charged import duty dependant on local import laws and duty rates. These charges are usually billed to you directly from UPS.
Delivery times vary for international orders depending on the service selected and the destination. You can see the delivery time and cost at the shipping stage, or by using the shipping estimator from within the shipping basket.
Collection
If you would like to collect your order, or use your own courier then there is an option you can select during checkout. We do not charge a packaging or handling fee for this service, and you will receive an email when your order has been processed, you can collect half an hour after receipt of this email.
Further Information
Q:
How many time can work without die the battery?
Asked by: Christopher
A:
Hi Christopher,
Thank you for your question, our suppliers prediction is about two years on a CR2032 coin cell.
Best Regards
Cullen
Answered by: Cullen Lewis
31-Jan-19
---
Q:
How big is the display ?
Asked by: Tom
A:
The display is 12.8mmx40.4mm.
Answered by: Michael Lockhart
29-Feb-16
---
Q:
what is the diameter of the watch?
Asked by: Han
A:
The diameter of the watch is approximately 6.3cm.
Answered by: Michael Lockhart
15-May-15
---
Ask a question about this product
Payment & Security
Your payment information is processed securely. We do not store credit card details nor have access to your credit card information.