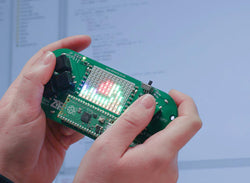 To highlight the fantastic learning potential of the Kitronik ZIP96 for Pico we devised three sets of free lesson plans. There are 11 lessons per game (10 for Reversi) and the lessons include curriculum mapping, practical exercises, a linked PowerPoint presentation, a PDF handout, and a completed code example. Learn more...
Read full article
At Kitronik we believe you shouldn't have to wait for a product that's why we currently have:
97.9%
of products in stock
Last updated 11-Dec-2023 17:05:48
Kitronik create high quality products and resources for education & makers
We specialise in electronic project kits and also stock the microbit and a range of accessories, plywood, e-textiles, Perspex, clocks and much more.
We aim to inspire & engage people of all abilities to further their knowledge of Electronics, Coding & Design by offering a well designed, well manufactured, innovative product range and free resources. All backed by detailed product descriptions, knowledgeable staff and fast delivery.
About us