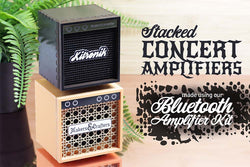 This make from Emma takes on the challenge of creating an enclosure for our Bluetooth Amplifier Module, and making it look cool! This stacked Concert amplifier-style enclosure will bring a little Rock 'n' Roll to your space in a neat, rechargeable package! Find out more...
Read full article
At Kitronik we believe you shouldn't have to wait for a product that's why we currently have:
98.5%
of products in stock
Last updated 29-Nov-2023 17:11:20
Kitronik create high quality products and resources for education & makers
We specialise in electronic project kits and also stock the microbit and a range of accessories, plywood, e-textiles, Perspex, clocks and much more.
We aim to inspire & engage people of all abilities to further their knowledge of Electronics, Coding & Design by offering a well designed, well manufactured, innovative product range and free resources. All backed by detailed product descriptions, knowledgeable staff and fast delivery.
About us