---
Quick links




Buy locally from a partner
Description
This PCB has been designed as an open-source platform for building and learning about proximity alarms (social distancing) using the micro:bits radio functionality. This can also serve as a classroom activity to highlight how social distancing works, specifically in the school environment. Once built it can be used with a lanyard so students can wear the completed proximity alarm for testing/use.
This board has been designed in conjunction with our friends at Headstart Technology in Malta. As we want to make this design available to anyone who will find it useful Headstart Technology has created a GitHub that will contain the PCB files and software used for the design. Visit the GitHub here.
The system makes use of the radio module of the micro:bit in two ways. Firstly, all micro:bits in one 'bubble' should share the same radio group, eg radio group 1. Secondly, the micro:bit radio signal strength turns out to be a reasonably accurate way of measuring distance. Each bubble should be set to its own radio group. If anyone from another 'bubble' approaches group 1 then a sounder gives a beep of alarm. This can be set up to cover all of the bubbles in a school so that anyone who gets too close to anyone who isn't in their bubble will be warned off with an alarm. The alarm will not sound if someone approaches members of their own bubble.
This kit has been made with rechargeable batteries in mind and has been tested to ensure that it will work for a week on a single charge. Use the completed board daily and remove the battery for charging over the weekend. To ensure that the batteries are not drained overnight during the week, ensure that the power switch is moved to the off position at the end of the day.
This is supplied as a PCB only, a full list of the requirements for this project can be found below. Although this is an easy build project, some simple soldering is required. There are full build instructions included at the foot of this product description, which also includes a troubleshooting flowchart and other general information.
A repository has been set up on Github with the code required to set up the proximity sensing and it also houses other files such as Eagle CAD files for the board. All of the files are provided as open-source, which allows you to modify them to suit your needs.
Note:
BBC micro:bit is NOT included, one can be obtained from here.
This board works with all versions of micro:bit.
Some soldering required.
Features:
Learn about proximity alarms and how to apply this to social distancing applications.
Fully open-source, with code and schematics and PCB designs provided.
Teach social distancing in a practical and hands-on way.
Full build instructions available.
Contents:
1 x Kitronik Proximity Monitoring Board - PCB Only.
Dimensions:
Length: 62mm.
Width: 90.9mm.
Height (with lanyard clip): 6.2mmm.
PCB Thickness: 1.6mm
Requires:
Note: Some of the parts are only sold in multiple units, so aren't suited to making a single board. As the purpose of the product is for use with multiple micro:bit units this should not be an issue.
Buy British:

  This product is designed and manufactured in the UK by Kitronik.
Same Day Dispatch
Orders placed online before 3:00pm Monday - Friday (excluding public holidays and our Christmas shutdown period) are always dispatched the same day provided the goods are in stock. If the goods are not in stock we will endeavour to contact you as soon as possible to discuss a dispatch date.
UK Deliveries
If you live on the UK mainland and don't have any large materials or lithium batteries in your order it will cost £3.95 (£4.74 including VAT) if you spend less than £40 (£48 including VAT).
If you spend between £40 and £200 (£48 - £240.00 including VAT, excluding large materials or lithium batteries) delivery is free to most locations, £12 (£14.40 including VAT, excluding large materials or lithium batteries) to Northern Ireland and £15 (£18.00 including VAT, excluding large materials or lithium batteries) to UK remote locations. For a list of postcodes that will be charged the remote location rate: remote area list.
If you spend over £200 (£240.00 including VAT, excluding large materials or lithium batteries) delivery is free within the UK.
Rest of the world
These orders are sent via UPS, and the cost is dependant on the service you choose at checkout. Alternatively you can choose the free collection option and have your own courier collect it from us. International orders can only be shipped to the registered card address. Please note: International orders may be charged import duty dependant on local import laws and duty rates. These charges are usually billed to you directly from UPS.
Delivery times vary for international orders depending on the service selected and the destination. You can see the delivery time and cost at the shipping stage, or by using the shipping estimator from within the shipping basket.
Collection
If you would like to collect your order, or use your own courier then there is an option you can select during checkout. We do not charge a packaging or handling fee for this service, and you will receive an email when your order has been processed, you can collect half an hour after receipt of this email.
Further Information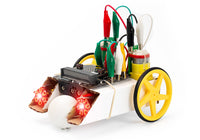 A wide range of BBC micro:bit resources, what it is, the editors and using the micro:bit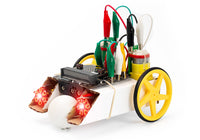 A wide range of BBC micro:bit resources, what it is, the editors and using the micro:bit
Ask a question about this product
Payment & Security
Your payment information is processed securely. We do not store credit card details nor have access to your credit card information.