---
Quick links





Buy locally from a partner
Description
Monitor and analyse the air you breathe with the Kitronik Air Quality Board. Great for home and the classroom.
The Kitronik Air Quality Board provides a complete air monitoring and reporting solution for the BBC micro:bit. The wealth of onboard sensors and connection points allow you to collect extensive air quality data that can be stored in onboard memory and displayed on the OLED screen or transferred to a computer for analysis. Kitronik has also produced online MakeCode tutorials that are designed to introduce you to all of the key features of the board, see the 'Resources section below for links.
The Air Quality Board is perfect for the classroom. Run short or long-term classroom experiments, such as; monitoring air quality throughout the year, with and without the heating on. You can then use the collected data to produce graphs and more. Alternatively, it would make a great addition to an office/workshop, let science inform you when it's time to open those windows or remind you to ventilate your work area!
The board includes an integrated Edge Connector for your BBC micro:bit to easily slot into. The onboard sensors allow readings for temperature, pressure, humidity, air quality index, and eCO2. The real-time clock (RTC) and 1Mbit of onboard EEPROM memory enable timestamped data logging and long term data storage. There are also 3 status ZIP LEDs onboard which be used for visually displaying data. 3 of the BBC micro:bit's pins (Pins 0,1, and 2) are broken out to 0.1" pitch solder pads allowing for additional sensors or outputs. There are also 3V and GND pads for providing power to these devices.
The board can be powered via either the 3xAA battery holder or the micro USB connector. The voltage supply is controlled using a power switch, with a green status LED to indicate when the board is turned on. The board also produces a regulated 3V supply which is fed into the edge connector to power the inserted BBC micro:bit, removing the need to power the BBC micro:bit separately.
The board also features a connection point for a solar cell that can be used alongside rechargeable batteries to keep your experiments running for longer. NOTE: Please ensure the correct rechargeable batteries are fitted before charging, they should be NiMh.
Kitronik has produced custom MakeCode blocks to make the task of coding as straightforward as possible. You can add our custom blocks to the MakeCode editor by clicking on the cog icon in the top right of the editor and selecting Extensions. You can then type and enter Kitronik into the search bar and then click on the tile for the Air Quality Board blocks. The custom blocks will now be added to the editor's blocks menu. These blocks can also be added to the menu via this URL; https://github.com/KitronikLtd/pxt-kitronik-air-quality
Features:
An all in one Air Quality monitoring and reporting solution for the BBC micro:bit.
Measure temperature, pressure, humidity, air quality index, and eCO2.
Pins 0, 1 and 2 are broken out to solder pads for additional I/O.
The board features a black and white 128x64 OLED display screen and 3 status ZIP LEDs for visually displaying data.
The real-time clock (RTC) and 1Mbit of onboard EEPROM memory enable timestamped data logging and long term data storage.
Online MakeCode tutorials that introduce you to all of the boards key features.
Run long term monitoring experiments in the classroom throughout the school year.
There is an integrated edge connector for the micro:bit to slot into.
The board also features a connection point for a solar cell that can be used alongside rechargeable batteries to keep your experiments running for longer.
Kitronik has produced custom MakeCode blocks for convenient and straightforward coding.
It can be coded with MakeCode/Javascript/Python.
Contents:
1 x Kitronik Air Quality Board for BBC micro:bit.
1 x 3xAA battery holder.
1 x USB Lead.
Dimensions:
Length: 68.5mm.
Width: 48mm.
Height: 28.5mm.
PCB Thickness: 1.6mm
Video:
Requires:
Tech Talk - Live stream playback.
Buy British:

  This product is designed and manufactured in the UK by Kitronik.
| | |
| --- | --- |
| Attribute | Value |
| Operating Battery Voltage (Vcc) | +5V max |
| Operating USB Connector Voltage | +5V DC max |
| Solar Cell Input | +5V max |
| Power Output Pins | 2 x 3V, 2 x GND (100mA current draw max) |
| Additional Input / Output Pins (Digital & Analogue) | Pin 0, Pin 1, Pin 2 |
| ZIP LED Control Pin | Pin 8 |
| BME688, RTC, OLED Display & EEPROM Control Pins | Pin 19, Pin 20 (I2C Lines) |
| BME688 Operating Range | Pressure: 300hPa - 1100hPa, Temperature: -40&degC;C - 85&degC;C, Humidity: 0%RH - 100%RH, Index for Air Quality (IAQ): 0 - 500 [0 = Excellent, 500 = Extremely Polluted], eCO2: 250 - 40000+ ppm [Estimated] |
| OLED Display Screen | 128 x 64 Pixels, Monochrome |
| EEPROM Size | 1Mbit |
Same Day Dispatch
Orders placed online before 3:00pm Monday - Friday (excluding public holidays and our Christmas shutdown period) are always dispatched the same day provided the goods are in stock. If the goods are not in stock we will endeavour to contact you as soon as possible to discuss a dispatch date.
UK Deliveries
If you live on the UK mainland and don't have any large materials or lithium batteries in your order it will cost £3.95 (£4.74 including VAT) if you spend less than £40 (£48 including VAT).
If you spend between £40 and £200 (£48 - £240.00 including VAT, excluding large materials or lithium batteries) delivery is free to most locations, £12 (£14.40 including VAT, excluding large materials or lithium batteries) to Northern Ireland and £15 (£18.00 including VAT, excluding large materials or lithium batteries) to UK remote locations. For a list of postcodes that will be charged the remote location rate: remote area list.
If you spend over £200 (£240.00 including VAT, excluding large materials or lithium batteries) delivery is free within the UK.
Rest of the world
These orders are sent via UPS, and the cost is dependant on the service you choose at checkout. Alternatively you can choose the free collection option and have your own courier collect it from us. International orders can only be shipped to the registered card address. Please note: International orders may be charged import duty dependant on local import laws and duty rates. These charges are usually billed to you directly from UPS.
Delivery times vary for international orders depending on the service selected and the destination. You can see the delivery time and cost at the shipping stage, or by using the shipping estimator from within the shipping basket.
Collection
If you would like to collect your order, or use your own courier then there is an option you can select during checkout. We do not charge a packaging or handling fee for this service, and you will receive an email when your order has been processed, you can collect half an hour after receipt of this email.
Further Information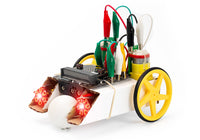 A wide range of BBC micro:bit resources, what it is, the editors and using the micro:bit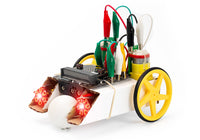 A wide range of BBC micro:bit resources, what it is, the editors and using the micro:bit
Ask a question about this product
Payment & Security
Your payment information is processed securely. We do not store credit card details nor have access to your credit card information.