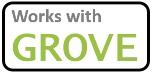 Description
The Cytron Maker Pi RP2040 robot controller board features the first microcontroller designed by Raspberry Pi, the RP2040. The board has a dual-channel DC motor driver, 4 x servo connectors, and 7 x Grove I/O connectors. It is well appointed to serve as the basis of your next robotics/buggy/movement-based project, and you get to interact with RP2040 outside of its natural habitat-- the Pi Pico (even though the RP2040 essentially makes it a pico, with extras).
The onboard motor driver is able to control 2 x DC motors or 1 x bipolar/unipolar stepper motor, supplying between 3.6V to 6V @ 1A per channel continuously. The board has built-in quick test buttons and motor output status LEDs for quick and convenient testing/monitoring (Vmotor for both DC and servo motors depends on the input voltage supplied to the board).
The Cytron Maker series of products have a number of common usability features, and this board is no exception. It is covered in LEDs, some for troubleshooting and some for taking control of visual FX. There is also an onboard sounder and push buttons that can be made use of within your projects.
Adding power to the Maker Pi RP2040 can be done in one of three ways; via USB (5V) socket, with a single cell LiPo/Li-Ion battery or through the VIN (3.6-6V) terminals. The connected power will drive the board and connected motors and the onboard on/off switch works regardless of which powering method you choose.
The Cytron Maker Pi RP2040 is basically the Raspberry Pi Pico + Maker series' features + Robot controller & other useful additions. Therefore, this board is compatible with the existing Pico ecosystem. Software, firmware, libraries and resources that are developed for Pico should work seamlessly with Cytron Maker Pi RP2040 too.
CircuitPython is preloaded on the Maker Pi RP2040 and it runs a simple demo program right out of the box. Connect it to your computer via a USB micro cable and turn it on, you will be greeted by a melody tune and an LED light show. Press GP20 and GP21 push buttons to toggle the LEDs on/off while controlling any DC and servo motors connected to it to move and stop. With this demo code, you get to test the board the moment you unbox it!
While connected to your computer, a new CIRCUITPY drive appears. Explore and edit the demo code (code.py & lib folder) with any code editor you like, save any changes to the drive and you shall see it in action in no time. That's why we embrace CircuitPython - it's very easy to get started. Wish to use other programming languages? Sure, you are free to use MicroPython and C/C++ for Pico/RP2040. For those of you who love the Arduino ecosystem, please take a look at this official news by Arduino and also the unofficial Pico Arduino Core by Earle F. Philhower.
Features:
Powered by Raspberry Pi RP2040

Dual-core Arm Cortex-M0+ processor
264KB internal RAM
2MB of Flash memory
the exact same specifications as Raspberry Pi Pico

Robot controller board

4x Servo motors
2x DC motors with quick test buttons

Versatile power circuit

Automatic power selection: USB 5V, LiPo (1-cell) or Vin (3.6-6V)
Built-in 1-cell LiPo/Li-Ion charger (over-charged & over-discharged protection)
Power on/off switch

13x Status indicator LEDs for GPIO pins
1x Piezo buzzer with mute switch
2x Push button
2x RGB LED (Neopixel)
7x Grove ports (flexible I/O options: digital, analog, I2C, SPI, UART...)
Preloaded with CircuitPython by default
Mounting holes

4x 4.8mm mounting hole (LEGO® pin compatible)
6x M3 screw hole
Contents:
1 x Cytron Maker Pi RP2040
4 x Grove to Female Header Cable
1 x Mini Screwdriver
1 x Silicone Rubber Feet (Pack of 4)
Dimensions:
Length:88mm.
Width: 64mm.
Height: 13mm.
Video:
Requires:
Same Day Dispatch
Orders placed online before 3:00pm Monday - Friday (excluding public holidays and our Christmas shutdown period) are always dispatched the same day provided the goods are in stock. If the goods are not in stock we will endeavour to contact you as soon as possible to discuss a dispatch date.
UK Deliveries
If you live on the UK mainland and don't have any large materials or lithium batteries in your order it will cost £3.95 (£4.74 including VAT) if you spend less than £40 (£48 including VAT).
If you spend between £40 and £200 (£48 - £240.00 including VAT, excluding large materials or lithium batteries) delivery is free to most locations, £12 (£14.40 including VAT, excluding large materials or lithium batteries) to Northern Ireland and £15 (£18.00 including VAT, excluding large materials or lithium batteries) to UK remote locations. For a list of postcodes that will be charged the remote location rate: remote area list.
If you spend over £200 (£240.00 including VAT, excluding large materials or lithium batteries) delivery is free within the UK.
Rest of the world
These orders are sent via UPS, and the cost is dependant on the service you choose at checkout. Alternatively you can choose the free collection option and have your own courier collect it from us. International orders can only be shipped to the registered card address. Please note: International orders may be charged import duty dependant on local import laws and duty rates. These charges are usually billed to you directly from UPS.
Delivery times vary for international orders depending on the service selected and the destination. You can see the delivery time and cost at the shipping stage, or by using the shipping estimator from within the shipping basket.
Collection
If you would like to collect your order, or use your own courier then there is an option you can select during checkout. We do not charge a packaging or handling fee for this service, and you will receive an email when your order has been processed, you can collect half an hour after receipt of this email.
Further Information
Ask a question about this product
Payment & Security
Your payment information is processed securely. We do not store credit card details nor have access to your credit card information.