Description
Good news! :MOVE mini has been updated to MK 2 and now comes with much better wheels. This page has been left here for information purposes, get the new and improved :MOVE mini MK2 Pack of 20 here .
This is a pack of 20 :MOVE mini kits for the BBC microbit.
The Kitronik :MOVE mini buggy kit for the BBC micro:bit provides a fun introduction to robotics. The :MOVE mini is a 2 wheeled robot that is suitable for autonomous operation, remote control projects via a Bluetooth application or being controlled using a second BBC micro:bit as a controller via the microbits radio functionality.
The Kitronik :MOVE mini is powered by two continuous rotation servo motors. The speed of these servo's can be controlled by simply altering the PWM (Pulse Width Modulation) signal to the servo, which is easy to do using the Servo blocks in the Microsoft MakeCode Block editor. We have also produced Kitronik custom blocks for the Servo:Lite to make the task of coding as quick and painless as possible, see the resources section at the foot of this page for more information.
The buggy also has 5 x RGB individually addressable ZIP LEDs (NeoPixel compatible), which can be used as indicators, reverse lights etc...
It is possible to add a pen or other extra parts to the kit to increase the range of tasks for which it can be used.
The BBC micro:bit is sold separately and the kit requires simple assembly, buy the microbit here.
Video:
The included Kitronik :MOVE servo:lite board can also be used in conjunction with a BBC micro:bit to build other movement based projects. We've produced a wide range of tutorials and guides that can be found in the resources section below. We have guides detailing; how to control a third servo, how to code the buggy to draw shapes, how to write code for the on-board ZIP LEDs, how to code the buggy for Bluetooth control and how to use a second microbit as a controller.
Note:
This kit requires mechanical assembly.
Features:
The kit offers a fun introduction to the world of DIY robotics.
Add code for autonomous operation.
Use in conjunction with an App and control it over Bluetooth.
Use the radio function and a second microbit as a controller.
Attach a pen and code the robot to draw shapes.
Each individual :MOVE mini contains:
1 x Set of chassis parts.
2 x Micro 360 degree continuous rotation Servos with accessories.
1 x Servo:Lite board.
5 x Counter sunk M3 8mm screw.
6 x M2 Pan head steel screw.
3 x AAA Batteries.
Dimensions:
Length: 80mm.
Width: 65mm.
Height: 70mm.
Same Day Dispatch
Orders placed online before 3:00pm Monday - Friday (excluding public holidays and our Christmas shutdown period) are always dispatched the same day provided the goods are in stock. If the goods are not in stock we will endeavour to contact you as soon as possible to discuss a dispatch date.
UK Deliveries
If you live on the UK mainland and don't have any large materials or lithium batteries in your order it will cost £3.95 (£4.74 including VAT) if you spend less than £40 (£48 including VAT).
If you spend between £40 and £200 (£48 - £240.00 including VAT, excluding large materials or lithium batteries) delivery is free to most locations, £12 (£14.40 including VAT, excluding large materials or lithium batteries) to Northern Ireland and £15 (£18.00 including VAT, excluding large materials or lithium batteries) to UK remote locations. For a list of postcodes that will be charged the remote location rate: remote area list.
If you spend over £200 (£240.00 including VAT, excluding large materials or lithium batteries) delivery is free within the UK.
Rest of the world
These orders are sent via UPS, and the cost is dependant on the service you choose at checkout. Alternatively you can choose the free collection option and have your own courier collect it from us. International orders can only be shipped to the registered card address. Please note: International orders may be charged import duty dependant on local import laws and duty rates. These charges are usually billed to you directly from UPS.
Delivery times vary for international orders depending on the service selected and the destination. You can see the delivery time and cost at the shipping stage, or by using the shipping estimator from within the shipping basket.
Collection
If you would like to collect your order, or use your own courier then there is an option you can select during checkout. We do not charge a packaging or handling fee for this service, and you will receive an email when your order has been processed, you can collect half an hour after receipt of this email.
Further Information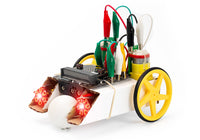 A wide range of BBC micro:bit resources, what it is, the editors and using the micro:bit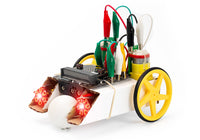 A wide range of BBC micro:bit resources, what it is, the editors and using the micro:bit
Ask a question about this product
Payment & Security
Your payment information is processed securely. We do not store credit card details nor have access to your credit card information.