---
Quick links




Buy locally from a partner
Description
Snel op een leuke manier aan de slag met het programmeren van de BBC micro:bit en het bouwen van elektrische schakelingen. Dat kan met de Python-versie van de uitvinderskit van Kitronik. Deze uitvinderskit bevat alles wat je nodig hebt voor tien experimenten.
De kit bevat een makkelijk te volgen opdrachtenboekje dat je stap voor stap van alles uitlegt over het programmeren van de BBC micro:bit. Ook zonder programmeerervaring maak je met dit boekje binnen no time leuke dingen. Deze kit bevat een Nederlandstalig opdrachtenboekje en is verder helemaal hetzelfde als de kits met een boekje in een andere taal.
Bij de experimenten één tot en met zes programmeer je met de codeblokken van MakeCode, voor de experimenten zeven tot en met tien gebruik je de Python-editor van MakeCode. 
De BBC micro:bit bevat aan de onderkant een aantal pinnen en deze zijn te gebruiken om elektronische onderdelen aan te sluiten. Dat gaat gemakkelijk via ons speciaal voor de BBC micro:bit ontworpen breakout board in combinatie met een breadboard. 
Uitbreidingen voor de uitvinderskit:
De experimenten van uitvinderskit van Kitronik laten zien hoe je code en elektronica kunt combineren voor alledaagse toepassingen en het oplossen van problemen. Maar waarom zou je hier stoppen met nieuwe dingen leren?
De drie uitbreidingssets voor de uitvinderskit zijn speciaal ontworpen om je meer. Let op: de opdrachtenboekjes bij deze sets zijn Engelstalig.
Uitbreidingsset met ZIP LEDs Met deze uitbreidingsset leer je hoe je code schrijft om de ZIP LEDs aan te sturen. Daarnaast leer je hoe je ZIP LEDs kunt laten reageren op input van onder andere potentiometers en sensoren.
Uitbreidingsset over geluid – Leer hoe je geluid aanpast, instrumenten bouwt, geluid versterkt en hoe je specifieke frequenties kunt wegfilteren, afzwakken of juist versterken.
Uitbreidingsset over digitale logica – Leer hoe logische poorten werken en hoe je die kunt gebruiken samen met de micro:bit.
Opmerkingen:
Je moet enkele onderdelen van deze kit zelf in elkaar zetten.
Bij deze kit krijg je een boekje met gedetailleerde instructies, codevoorbeelden en schakelschema's voor tien experimenten.
Deze kit bevat géén BBC microbit!
Kenmerken:
Je hoeft niets te solderen – bouw je eerste schakeling in slechts enkele minuten!
Ga aan de slag met tien experimenten aan de hand van een Nederlandstalig opdrachtenboekje met stap-voor-stap-uitleg.
Naarmate je meer leert over programmeren, stap je over van codeblokken naar Python. Dit doe je in de MakeCode-omgeving.

Experimenten 1 - 6 gebruiken gekleurde codeblokken
Experimenten 7 - 10 worden geprogrammeerd met Python.

De kit bevat alle onderdelen die je nodig hebt voor tien experimenten.
De kit maakt alle 21 beschikbare pinnen van de BBC micro:bit makkelijk toegankelijk via het breakout board voor de BBC micro:bit. (Dit board is onderdeel van de kit.)
Een klein breadboard is ook onderdeel van deze kit, om snel prototypes te kunnen maken.
Inhoud:
Elke individuele kit bevat het volgende;
Uitvinderskit voor de micro:bit van Kitronik, versie met Phyton, bundelopties:
Losse kit: 5669
Bundel met 20 kits: 5669-20
Benodigdheden:
1 x BBC micro:bit.
1 x kruiskopschroevendraaier.
1 x schroevendraaier voor een kroonsteen.
1 x Micro-usb-kabel.
Buy British:

  This product is designed and manufactured in the UK by Kitronik.
Onderstaande online tutorials zijn Engelstalig. Wanneer je de hex-files op deze pagina's downloadt, kun je de code wel in het Nederlands zien en gebruiken. Alleen zijn de namen van de variabelen dan niet naar het Nederlands vertaald, zoals in het Nederlandstalige opdrachtenboekje wel is gebeurd.
Same Day Dispatch
Orders placed online before 3:00pm Monday - Friday (excluding public holidays and our Christmas shutdown period) are always dispatched the same day provided the goods are in stock. If the goods are not in stock we will endeavour to contact you as soon as possible to discuss a dispatch date.
UK Deliveries
If you live on the UK mainland and don't have any large materials or lithium batteries in your order it will cost £3.95 (£4.74 including VAT) if you spend less than £40 (£48 including VAT).
If you spend between £40 and £200 (£48 - £240.00 including VAT, excluding large materials or lithium batteries) delivery is free to most locations, £12 (£14.40 including VAT, excluding large materials or lithium batteries) to Northern Ireland and £15 (£18.00 including VAT, excluding large materials or lithium batteries) to UK remote locations. For a list of postcodes that will be charged the remote location rate: remote area list.
If you spend over £200 (£240.00 including VAT, excluding large materials or lithium batteries) delivery is free within the UK.
Rest of the world
These orders are sent via UPS, and the cost is dependant on the service you choose at checkout. Alternatively you can choose the free collection option and have your own courier collect it from us. International orders can only be shipped to the registered card address. Please note: International orders may be charged import duty dependant on local import laws and duty rates. These charges are usually billed to you directly from UPS.
Delivery times vary for international orders depending on the service selected and the destination. You can see the delivery time and cost at the shipping stage, or by using the shipping estimator from within the shipping basket.
Collection
If you would like to collect your order, or use your own courier then there is an option you can select during checkout. We do not charge a packaging or handling fee for this service, and you will receive an email when your order has been processed, you can collect half an hour after receipt of this email.
Further Information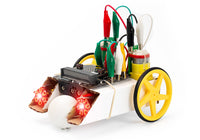 A wide range of BBC micro:bit resources, what it is, the editors and using the micro:bit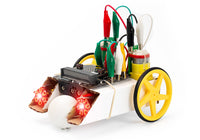 A wide range of BBC micro:bit resources, what it is, the editors and using the micro:bit
Ask a question about this product
Payment & Security
Your payment information is processed securely. We do not store credit card details nor have access to your credit card information.