---
Quick links




Buy locally from a partner
Description
Kitronik micro:bit Inventors Kit - Python version - German. Das Kitronik Inventor's Kit - Python-Version für den BBC micro:bit ist eine gute Möglichkeit, um in die Programmierung und Hardware-Interaktion mit dem BBC micro:bit einzusteigen. Dieser Erfinderbaukasten enthält alles, was Sie für 10 Experimente benötigen. Damit Sie sofort loslegen können, haben wir ein leicht verständliches Anleitungsbuch beigelegt, das Sie durch alles führt, was Sie über die Programmierung des BBC micro:bit wissen müssen. Sie benötigen keine Erfahrung mit der Programmierung, da das Lehrbuch Sie bei jedem Schritt anleitet. Dies ist eine deutschsprachige Version des Booklets, die in jeder anderen Hinsicht mit den anderen Sprachversionen identisch ist.
Das Anleitungsheft bietet Schritt-für-Schritt-Anleitungen zu allen 10 Experimenten. Die Experimente 1 - 6 sind mit MakeCode-Blöcken und die Experimente 7 - 10 mit dem MakeCode-Python-Editor kodiert. 
Der BBC micro:bit hat eine Auswahl an Pins, die sich an der Unterkante seiner Platine befinden. Durch die Verwendung unseres speziell entwickelten Randsteckverbinder-Platine für den BBC micro:bit in Verbindung mit dem Steckbrett ist es einfach, diese Pins zu verwenden, um zusätzliche Komponenten an den BBC micro:bit anzuschließen.
Erfinder-Set Erweiterungspakete:
Für sich allein genommen bietet das Kitronik Inventors Kit einen großartigen Einstieg in die Welt des Physical Computing. Die Experimente zeigen, wie Code und Elektronik kombiniert werden können, um reale, alltägliche praktische Lösungen für Situationen und Probleme zu schaffen. Aber warum dort aufhören?
Die drei Zusatzpakete für das Inventor's Kit wurden speziell entwickelt, um Sie in zusätzliche Aspekte des praktischen Physical Computing einzuführen.
Das ZIP LEDs Zusatzpaket Mit diesem Zusatzpaket lernen Sie, wie Sie Code schreiben, um die Kontrolle über ZIP-LEDs zu übernehmen.
Das Noise Paket Lernen Sie, wie Sie Klänge manipulieren, Instrumente bauen, Ihre Klänge verstärken und mit Filtering und EQ formen können.
Das Digital Logic PaketLernen Sie, wie Logikgatter funktionieren und wie sie in Verbindung mit dem micro:bit verwendet werden können.
Hinweis:
Dieser Bausatz erfordert eine Montage.
Dieser Bausatz enthält keine BBC microbit.
Merkmale:
Kein Löten erforderlich - bauen Sie Ihre erste Schaltung in wenigen Minuten auf!
Führen Sie 10 Experimente durch, die in der mitgelieferten, deutschsprachigen Schritt-für-Schritt-Anleitung enthalten sind.
Wenn Ihre Fähigkeiten wachsen, können Sie von Blocks zu Python übergehen, und das alles in der MakeCode-Umgebung.

Die Experimente 1 - 6 sind blockorientiert.
Die Experimente 7 - 10 sind nun mit Python abgeschlossen.

Alle Teile sind enthalten, um die 10 Experimente (unten aufgelistet) durchzuführen.
Bricht 21 zugängliche Pins des BBC micro:bit mit der Randsteckerplatine für den BBC micro:bit (im Lieferumfang enthalten).
Kleines Prototypen-STeckbrett enthalten für schnelles Prototyping.
Inhalt:
Jede einzelne Packung enthält;
Kitronik micro:bit inventors kit - Python Version Packungsgrößen-Optionen:
Einzelpackung: 5669-DE.
20er Pack: 5669-DE20
Erfordert:
Buy British:

  This product is designed and manufactured in the UK by Kitronik.
Same Day Dispatch
Orders placed online before 3:00pm Monday - Friday (excluding public holidays and our Christmas shutdown period) are always dispatched the same day provided the goods are in stock. If the goods are not in stock we will endeavour to contact you as soon as possible to discuss a dispatch date.
UK Deliveries
If you live on the UK mainland and don't have any large materials or lithium batteries in your order it will cost £3.95 (£4.74 including VAT) if you spend less than £40 (£48 including VAT).
If you spend between £40 and £200 (£48 - £240.00 including VAT, excluding large materials or lithium batteries) delivery is free to most locations, £12 (£14.40 including VAT, excluding large materials or lithium batteries) to Northern Ireland and £15 (£18.00 including VAT, excluding large materials or lithium batteries) to UK remote locations. For a list of postcodes that will be charged the remote location rate: remote area list.
If you spend over £200 (£240.00 including VAT, excluding large materials or lithium batteries) delivery is free within the UK.
Rest of the world
These orders are sent via UPS, and the cost is dependant on the service you choose at checkout. Alternatively you can choose the free collection option and have your own courier collect it from us. International orders can only be shipped to the registered card address. Please note: International orders may be charged import duty dependant on local import laws and duty rates. These charges are usually billed to you directly from UPS.
Delivery times vary for international orders depending on the service selected and the destination. You can see the delivery time and cost at the shipping stage, or by using the shipping estimator from within the shipping basket.
Collection
If you would like to collect your order, or use your own courier then there is an option you can select during checkout. We do not charge a packaging or handling fee for this service, and you will receive an email when your order has been processed, you can collect half an hour after receipt of this email.
Further Information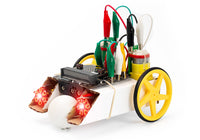 A wide range of BBC micro:bit resources, what it is, the editors and using the micro:bit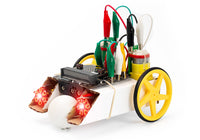 A wide range of BBC micro:bit resources, what it is, the editors and using the micro:bit
Ask a question about this product
Payment & Security
Your payment information is processed securely. We do not store credit card details nor have access to your credit card information.